CULINARY BOX #1 – CHEF TRUDY METCALFE-COE
Culinary Experiences - Virtual
June 6, 2022 @ 6:00 pm

-

11:30 pm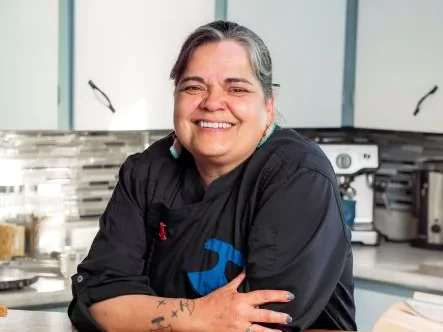 Video is available throughout the month of June.
Blackened Arctic Char, Dilled Butter Peas and Mashed Potatoes
$55.00 + shipping
Originally from Nain, Nunatsiavut, the Inuit Land Claims region in Northern Labrador, Inuk Chef Trudy Metcalfe-Coe has called Ottawa home for thirty plus years. Trudy started cooking around the age of twelve and takes pleasure in bringing comfort to family, friends and community, through her love of creating tasty dishes from Country Food (food from the Arctic such as caribou, seal, arctic char and musk ox). Trudy is a very proud Mama to two successful daughters who are strong Indigenous Leaders in their community and a loving Titi to her two precious grandchildren. Trudy is also very artistic and spends many evenings in front of her sewing machine sewing beautiful parkas based on traditional Inuit designs, with a modern twist. She also creates jewelry using seal skin and enjoys beading.